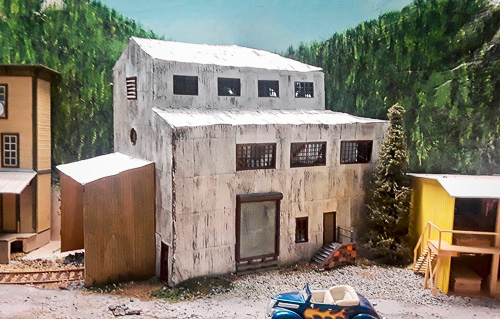 From Rich Randall
I have a double-sided backdrop on my layout where there will eventually be a "Loads In – Empties Out" function. The St. Maries side has a plywood mill, currently in place, which will receive empty bulkhead flatcars and produce loaded cars. The door will be a rollup type.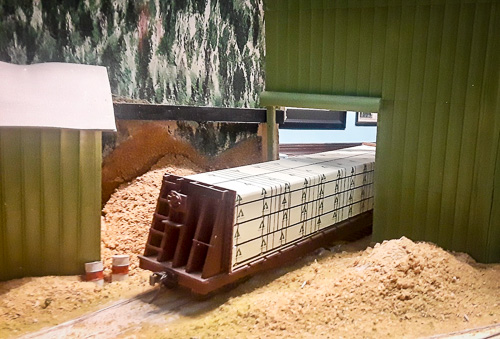 On the other side of the backdrop, Marengo, there will be a plant of some kind that receives loaded bulkhead flatcars and produces empty cars. I was looking for a quick way to put a building in place on the Marengo side. I was constrained by existing trackage.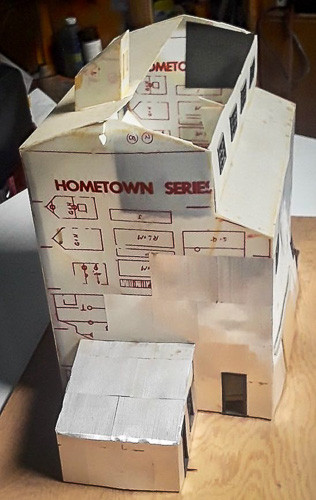 Rummaging through my stuff, I came across a Broadway Limited Cannery kit. I had three of these at one time since they are very flexible. The kit has material to build a factory with corrugated sides and roof, using plenty of heavy styrene sheets, factory windows, and aluminum corrugated siding strips.
So I devised a way to place the building on an angle so that a single car could be placed inside.
It took quite a bit of trial and error to create a design that would clear the cars adequately. I used miscellaneous plastic pieces to strengthen the styrene joints.
The conventional swing doors are made of wood and will be operated by some kind of screw mechanism attached to the tops of each door. This will be a subject of a future exercise.
I weathered the structure, but maybe too much.