by Bob Law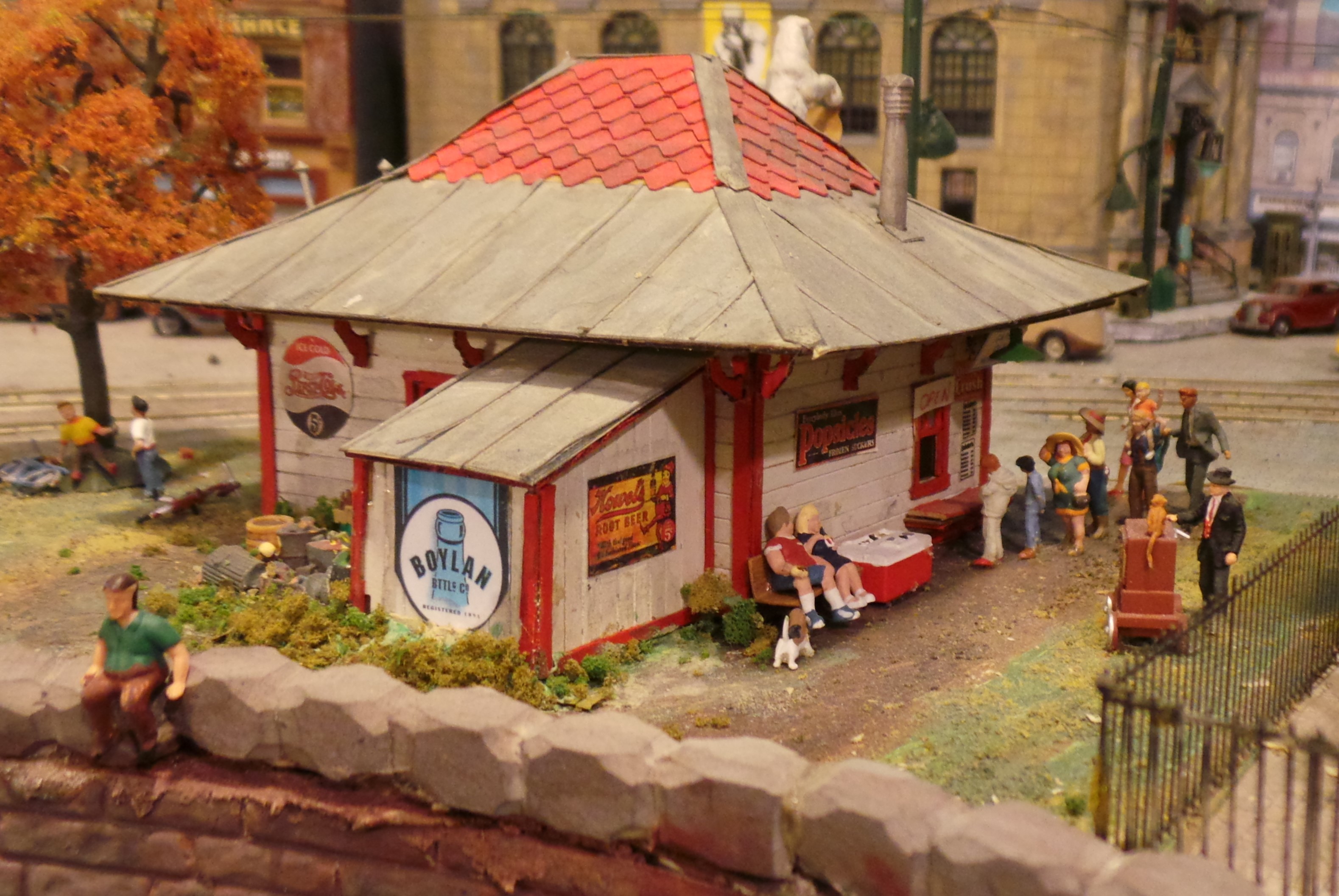 Who amongst us does not enjoy people watching? When you drive down a street, isn't your eye immediately attracted to peoples' activities? Utilizing figurines in your models can cause the casual viewer of your models to focus their attention not only on the human activity but also upon the buildings and scenery you have constructed.
I have had more opportunity lately to visit quite a few layouts. I am struck that very few modelers make much use of figurines. A very elaborate and well-constructed street scene will often be devoid of people making the scene seem abandoned. The addition of just a few figures can quickly make the same scene seem occupied and lively. Most of all it will draw the viewer's eye into the details of other buildings to search out for more such human activity. 
A visitor to my recent open house commented on all the figurines I use on my layout. He wondered how I was able to use them in such different ways and most of all, how I didn't have a vast surplus of little people since he could often only find use for one or two figures out of a set of five or six.
Figurines come in packets assuming that the set should be used to create a scene as provided in the packet. I have found that many of these prearranged scenes are often unusable because the scenes are often not the sort of thing that would be found along a railway or the figurines themselves are in poses that are not really useful or visually credible. By making a study of the various figurines available from all the manufactures I have come upon ways of combining different figurines from different sets to create new and more realistic human activity scenes.  This requires creativity and thought but the results can be as rewarding as building any model.
Perhaps my most favorite scene on my layout is one I call "Mr. Beer gets a bath." (left) It is actually based upon a personal experience I had with a next-door neighbor years ago. We had labored hard to restore an old house and yard only to have a family move in next door that collect all sorts of junk cars and trash all around their house. I would have liked to have dumped a bucket of dirty water on my neighbor's head but never did – alas. 
In the Woodland Scenics set "Full Figured Folks" there was a fat guy with a beer who much reminded me of my old neighbor. In a Preiser set there was a young woman holding a bucket about to dump the water from a set called "Cleaning the House."  This figurine is now available as a solo figure.  From this, the scene began to build in my mind. I obtained Woodland Scenics sets "Children" and "Dogs & Cats." I also ordered Preiser's "Women Hanging Laundry." Of course, I also had to collect together all sorts of junk much of which came from my scrap box plus stuff found in the detailing section of the Walters reference book and a truck from Jordan Highway Miniatures. I assembled this altogether into the scene. It was great fun.
I used most of the figures purchased in the scene. Yet I had all the rest of the full-figured people unused with no apparent place to put them. Then it occurred to me that the most probable place for chubby people to be would be at an ice cream stand. (previous page, top) Yet I wanted to create some comedy to that scene. I perused the available possibilities and came upon a Preiser set called "Children" with a boy searching for pocket change. This kid would be holding up a line of people searching for the nickel he doesn't have. Finding uses for the rest of the figures in the "Children" was easy. I used up a many figures I had left over from the "Mr. Beer" scene along with others.   
Soon using up leftover figures became a challenge in itself that I came to enjoy. The scene I call "Photo at the Burlesque"(above) is composed entirely of left-over figures from various sets some of which I no longer can remember. The photographer is available from Preiser as a single figurine. The scene is inspired by something that I read about occurring during the heart of the Depression. Business was so poor that even the Burlesque houses couldn't attract customers and had to resort to advertising (something they rarely had to do.) It was also inspired by a Depression Era song; "Lulu's Back in Town." Here a photographer is taking a picture of the ever-popular Lulu while the Mob and bribed police protect her. A pretty girl in front of a racy car always attracts attention in the newspaper.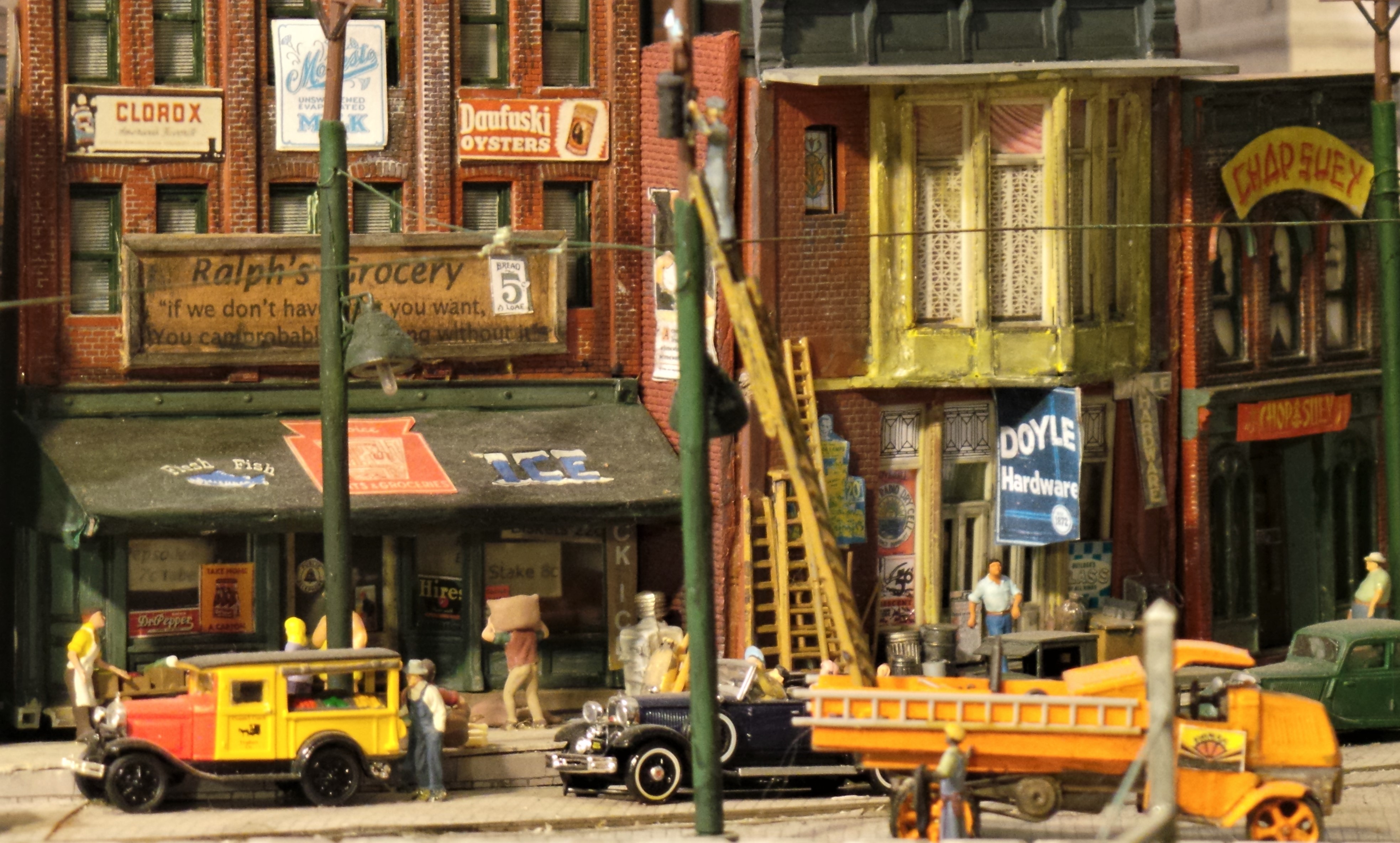 Finding use for left over figures doesn't have to be as elaborate as this. For instance, I was left with one figure from a Preiser "Truckers" set; a guy with both hands raised to open a roller door on a truck. I had no such truck. So instead he became a utility worker replacing a transformer (below) on a utility pole.
The possibilities are endless to create all sorts of interesting mini-scenes once you get into this as a creative challenge.
But take care. People may look at you askance and worry if you talk too much about the "little people."