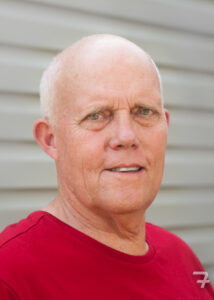 It is with much sadness that the South Mountain Division must announce the death of Jerome "Jerry" Skeim on 8 April 2021. A member of the NMRA since 1971, Jerry was Assistant Superintendent of the South Mountain Division (SMD) for two years before being elected to the Superintendent's post in the fall of 2020.
Information obtained on Jerry's Facebook page noted he was from Bemidji, MN, where Jerry attended high school and studied mass communications at the State University of the same name. In his introduction as a candidate for Superintendent, Jerry noted that he retired in 2017, has been married for over 40 years to the love of his life (Deb), and included that they have 5 adult children. Jerry went on to share that he managed a branch office of a financial institution for 15 years, served in the military for over 20 years, and before retirement he worked for the Army National Guard Bureau in Arlington, VA.
Quoting from Jerry's Superintendent's bio he wrote, "I have a love for all scales in the hobby but my main interests are On30, On3, and 2-rail O scale. A new narrow-gauge layout is currently in the construction stage. This is a point to point, 33-mile common carrier and logging railroad once headquartered in North-Central Minnesota." His On30 layout was inspired by the Minneapolis, Red Lake, & Manitoba, (MRL&M).
Jerry was optimistic about the future for the SMD, writing to a "truly outstanding group of model railroaders," that, "Besides the obvious love that we all share for railroading, for me, the NMRA is all about the people." Jerry's main goal for his term as Superintendent was service to the membership and inclusiveness. During the pandemic, Jerry achieved his goal to stimulate participation and interaction with the implementation of a second, more informal, monthly virtual video gathering to talk trains and share personal projects. 
SMD Assistant Superintendent Alex Polimeni shared, "He was a good friend and will be dearly missed."
Details regarding funeral arrangements have not been shared by Jerry's immediate family as of this publication.
Compiled by Tom Fedor, NMRA 139877