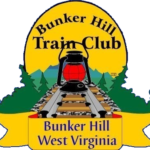 The Bunker Hill Model Railroad's next show is October 5th, 2019. If you are planning on selling at this show see our new website for more information at https://www.bunkerhilltrainclub.com/.
If You have any questions please contact Brandon at wvpd16@aol.com or call 304-702-3490.
Bunker Hill Train Club Show will be held at the Ranson Civic Center.
431 W. 2nd Ave., Ranson, WV 25438
Kids 11 & Under are Free!
Tickets at the Door are $6- Cash Only