As part of the Mainline Hobby Supply 32nd annual Open House and Layout Tours, the following South Mountain Division  (SMD) members will open their layouts. Registration and layout tour guides must be obtained from Mainline Hobby Supply inc Blue Ridge Summit, PA on the weekend of the tours.
Dave Moltrup's Beaver Falls & Shenango Railroad

This HO-scale Railroad is a freelanced steel mill set in the late 1960's. Size is 19′ x 24′. Operation is by NCE, DCC system.
Jay Beckham's Pennsylvania Railroad

O-Scale Layout

Jay Beckham's Model Railroad Layout. O Scale model of the Pennsylvania Railroad Northern Central branch from Penn Station Baltimore, MD to Harrisburg, PA. Trains will be running. Light refreshments will be served. This model railroad occupies our 1800 sq. ft. basement. Scenery is about 70% complete. Other photos at https://jaysoscalelayout.blogspot.com/ and on Jaysoscalelayout group on Facebook.
Don Florwick's Pittsburgh & South Pennsylvania Railroad

This is a proto-freelanced HO layout based on the never finished route of the South Pennsylvania RR envisioned by the New York Central in the late 1800s. On Don's 1955 version the NYC competes with the PRR across southern Pennsylvania connecting at Harrisburg PA with the Reading and at Pittsburgh with the NYC subsidiary P&LE. First generation lightning-stripe painted NYC diesels have just replaced steam to power passenger and freight traffic on this busy single-track TT&TO operated mainline.
Steve King's Virginia Midland
The Virginia Midland is a fully operational N-scale railroad located in the Virginia and West Virginia area and set during the 1969 period.  The layout is about 10 scale miles long and operates between two staging areas representing Marion, Virginia and Welch, West Virginia.  One passenger train, four freight trains, plenty of coal trains, and several daily mine runs keep the layout busy.
Bob Johnson's West Virginia Midland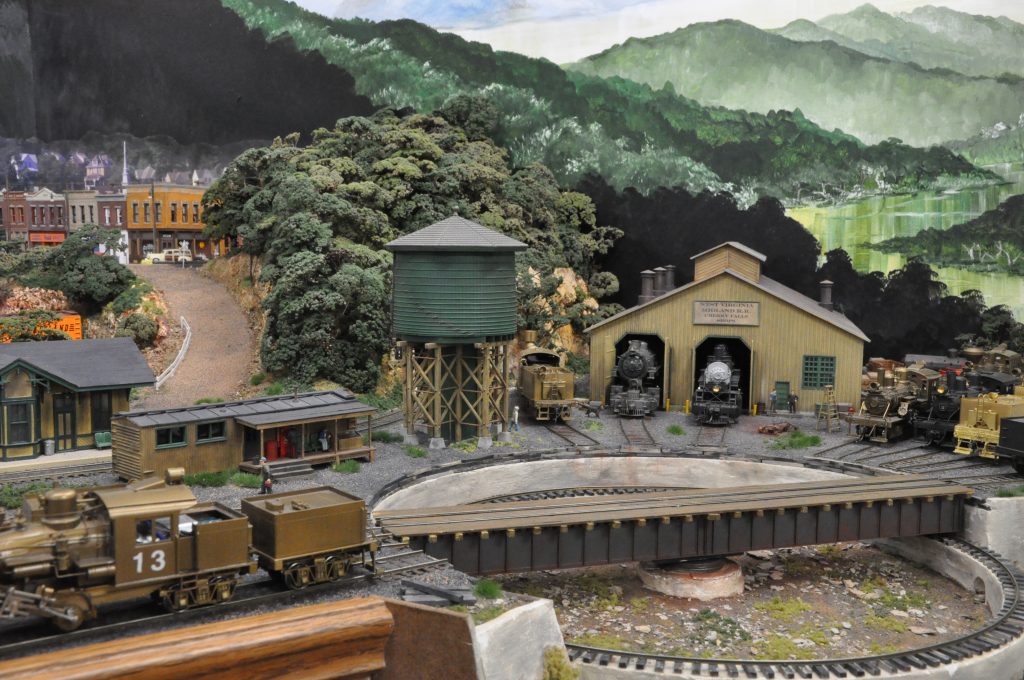 The West Virginia Midland is a HO scale freelance short line (based on a combination of several prototypes) which runs between the B&O at Holly Junction, WV and the Western Maryland at Laurel Bank, WV. Both the B&O and the WM have industry specific haulage rights on the Midland. The time period is summer 1954.
Major traffic producers on the Midland include a limestone quarry, coal mine (with a second simulated in staging) coke ovens, lumber mill (pending construction) with associated logging traffic and an industrial area around the Webster Springs / Cherry Falls area.
Scenery is approximately 90% completed
With the exception of two gas mechanical industrial switchers the WVM is 100% steam with a large number of geared locomotives (B&O and WM interchange power is diesel)
Operation is by TT&TO
The layout has an E-shaped 12 ft. by 16 ft. main area with a 50 ft. "around the wall" shelf extension.
The layout is designed so that each major industry is a "stand alone" scene that is large enough to be a viable source of revenue for the railroad. The intervening areas are modeled as open country to preserve the feeling of a rural short line railroad.The design of the railroad puts a heavy emphasis on local trains with extensive switching requirements.
Bob Morningstar's Western Maryland Railway – Hagerstown Subdivision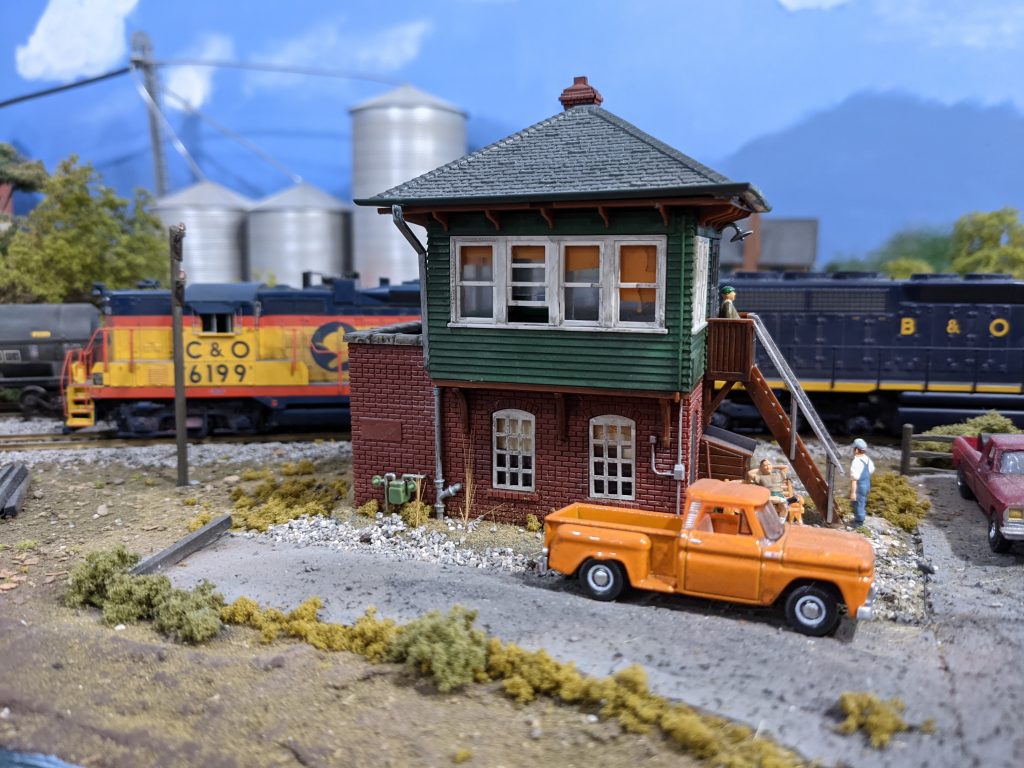 This is my recreation of my childhood and teenage years of railfanning in and around the Hagerstown area. The layout represent the Western Maryland Railway, circa 1978-1983, more or less. It covers the Hagerstown terminal area, NC tower, and points west to Hancock.The layout encompasses a dedicated layout room of 14' x 16'.   Cement operations in and around Hagerstown play a large role in the operations. There is a large cement plant in Pinesburg, MD that requires daily servicing. In addition, there is a cement hopper clean out facility in Hagerstown that supports cement operations.  Numerous industries are serviced by locals that originate out of Hagerstown. The B&O Weverton branch (severed by Hurricane Agnes in 1972) is now serviced out of Hagerstown. There are numerous industries to be serviced east of Hagerstown via the Security Branch of the B&O.
Transfer runs to and from the Conrail and N&W connection at Vardo Yard are important sources of interchange traffic.