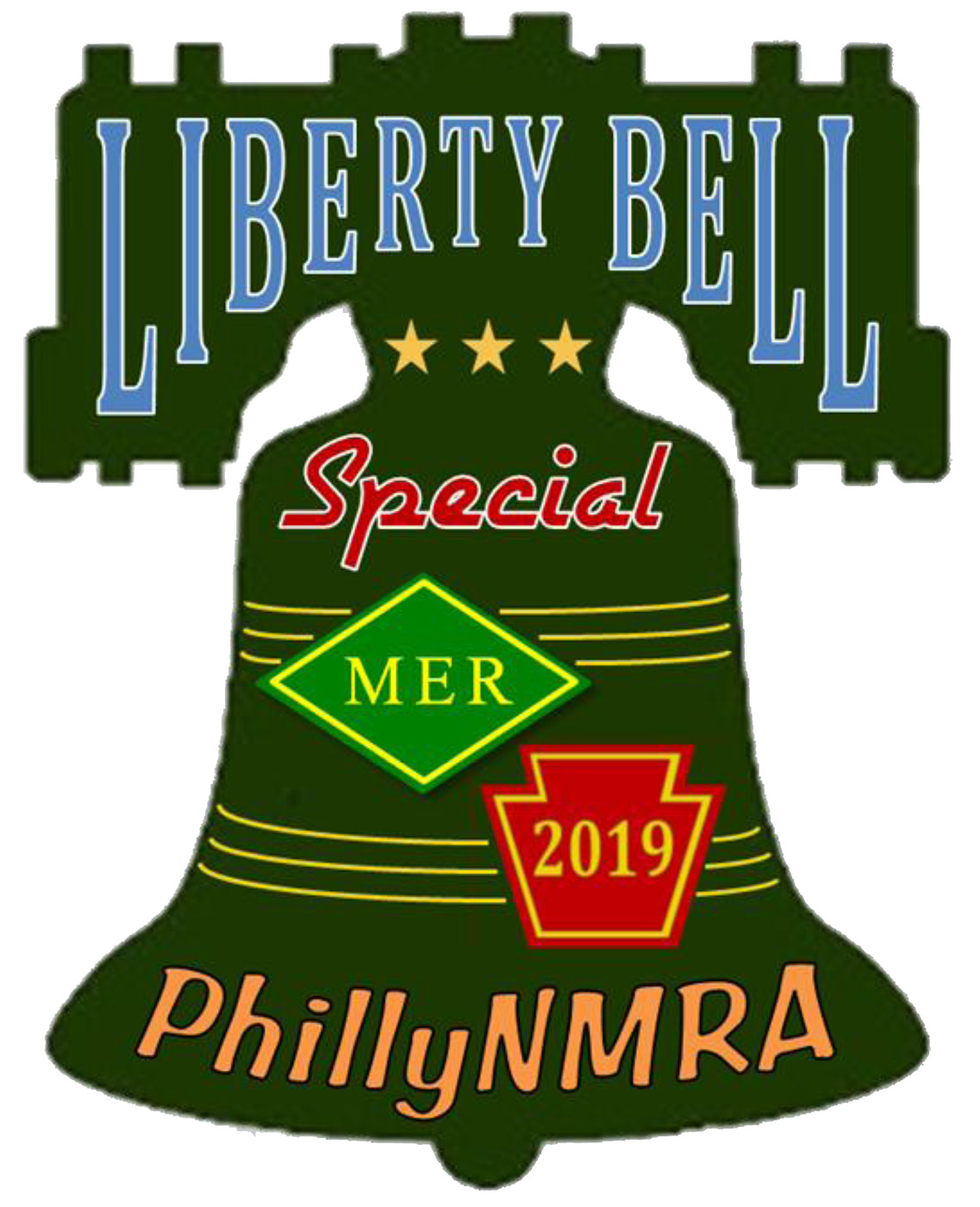 By Charles Stevens, Philly Division NMRA
Just a friendly reminder to those of you who procrastinate like I do, the "Early Bird" registration date for Liberty Bell Special 2019, Mid-Eastern Region 2019 convention is August 31, 2019. You can register for an exciting weekend of clinics, displays and vendor visits at www.libertybellspecial2019.org
Most of us probably don't need a back to school calendar or reminder anymore. And for those who do need a nudge, the merchants on TV do an excellent job of reminding us that summer is almost over. But while you're thinking of hanging up those white shorts and trousers you shouldn't wear after Labor Day, give some serious thought to joining your fellow Region members at the Mid-Eastern Region convention at King-of-Prussia, PA, October 10th through October 13th.
The clinic schedule is full up starting Thursday night running through Sunday morning. In addition to the usual fare of presentations, there are several hands on or make and take sessions available for participants. Whether you want to learn T Trak modular, the finer points of resin car assembly, work on your AP Electrical award or build a Hunterline structure, we have something available for you. Many of the hands on sessions require prior sign up available on the convention registration form at www.libertybellspecial2019.org. You will also find a tentative clinic schedule on the site. As we approach the convention, please remember to check the convention website frequently for updates, additions and changes. There is even a place on the home page to sign up for emails whenever changes or additions are made to the site.
One thing not listed on the convention website is our vendor roster. Artist Peter Lero will be joined by such familiar names as, in no particular order, Micro Mark, Funaro & Camerlengo, CMR, Downtown Deco, Hunterline, and Nick and Nora Designs
And speaking of Nick and Nora Designs, our Saturday night railroad menu themed banquet will feature a presentation by Mike Baker of Nick & Nora Designs. Mike is been a professional artist and designer and founded TMB Custom Models in 1992. In addition to creating craftsman kits, Mike builds models and details rolling stock for clients. He will regale us with stories of his achievements and frustrations pursuing this career most of us only dream about.
In one of our previous articles we discussed the modular display from the Reading Modular Society that will be on display at Liberty Bell Special 2019. Your author would be remiss if he did not give equal time to the New Jersey Free-Mo display that will share the Reading Modular room. NJ Free-Mo will offer operating time or spectating time on their two modules. Bill Grosse's Yardville module displays the Pennsylvania Railroad in the name sake town circa 1955. Mike Prokop's Linden Street Freight Station recreates the Reading Railroad's facilities on the Camden waterfront also packs a lot of operating opportunities in a small space. Mike's module was featured in the 2019 issue of Model Railroad Planning.
As you can see, the Liberty Bell Special committee has strived (striven?) to fill all your Region convention expectations over Columbus Day weekend. Register on the convention website, pack the car and family and plan to be on one of the many roads that lead to King of Prussia, PA.
See you all there!